WP Health continues to grow and be used on more sites. Even better than the growth that the plugin is seeing is the community around it. I have never worked on software before that was so loved and has actually helped people in the ways WP Health has helped people. Thank you for being such an awesome community!

Metrics
In early February, WP Health passed 5,000 websites. Towards the end of March, WP Health passed 6,000 websites! Most of March, the plugin had over 2% growth each week and reached 2.8% growth the week of March 16th.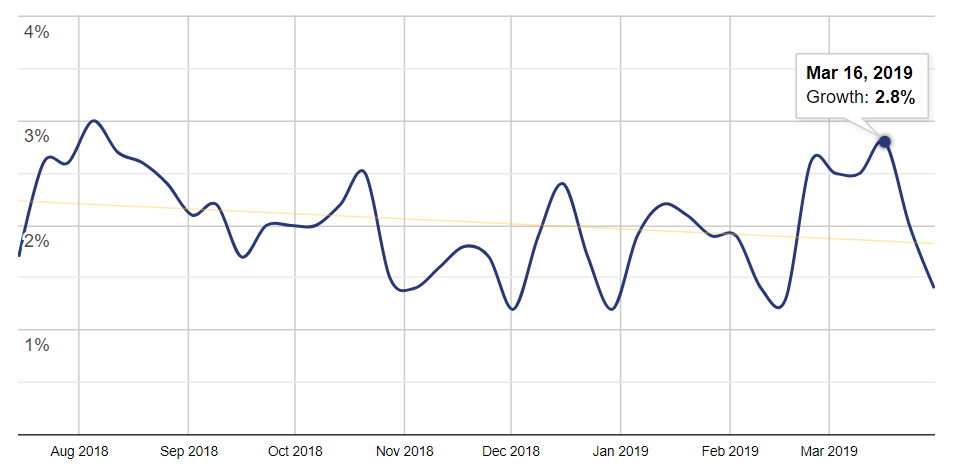 The plugin was installed on more new sites since the beginning of this year than in most of 2018.
In addition to the number of sites milestone, the plugin also passed 150 5-star reviews which is another great milestone to hit. It makes me happy knowing so many people have found great value in this plugin that I created.
Lastly, the plugin ended February with only 3 premium users with a total of $30 in revenue. Additionally, there were two users in a free trial. Over the month, I added more information about the premium version's features into the core plugin as well as created a dedicated page for people interested in upgrading. This resulted in 10 new free trials which will total $92 of monthly revenue if everyone decides to continue after their trial.
With more users, I naturally had my first cancellation. The person had realized that WP Health wasn't a good fit for his workflow. So, this made me start thinking more about how the site describes WP Health's features and how to better explain who the software is best for.
New Feature In 1.8.0
One of the most common mistakes I come across when helping new WordPress users at meetups and WordCamps is that the site admin hadn't turned off the "Discourage search engines from indexing this site" before launching their site.
So, in 1.8.0, I added a new check to see if that option is enabled or not.

Slack Integration
There are very few tools that are so common throughout our industry than Slack. Naturally, the first integration to add then would be Slack. For people who use WP Health Premium, you can now get Slack messages when your site is down when broken links are found, and more!

Changes To The Broken Link Checker
In the first version of the broken link checker, WP Health would provide a list of all links that it found that was broken. It would give the URL that was linked to and on which page of the site the broken link was on. This was great for most pages but what if there was a page with many links? The person would have to go through each link to find which one linked to that broken URL.
In this new version, the list now shows what was linked. If it was text, it gives the linked text. If it was an image, it says "image". If the image has alt text, WP Health will provide that to help find the exact image.

Patch Updates: 1.7.7, 1.7.8, And 1.7.9
In March, the core plugin received three patch updates. These three mainly focused on minor text changes within the checks as well as continuing my effort to make it easier for translators to translate the plugin.
Your Thoughts?
Do any of these changes address your needs? Have other features and improvements that you would like to see? Reach out to me and let me know!